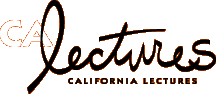 Due to the economic downturn, California Lectures has ceased programming.
For eight years California Lectures brought Nobel and Pulitzer prize-winning authors, media personalities and poets laureate to downtown's Crest Theatre. We have enjoyed bringing programming to the Sacramento region and extend our appreciation to the many friends and supporters of California Lectures who helped make this series possible.
For information about the organization, please email us at info@californialectures.org.
Please visit our resource pages for information about other literary programs:
Literary Links and Around Sacramento.