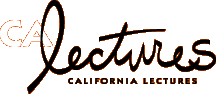 Founded by Suzette Riddle in 2001, California Lectures presented speaking engagements by distinguished, nationally recognized authors, poets, historians, journalists, and cultural figures who talked about themselves, their work, and issues of contemporary culture (Program Archives).
The presentations took place in Sacramento's historic Crest Theatre and were broadcast on Capital Public Radio and other National Public Radio affiliate stations. California Lectures provided education and outreach services benefiting the Sacramento region and donated hundreds of tickets each year to underserved students and community organizations serving underserved and low-income populations. The organization was funded in part through earned income from ticket sales, and through contributions made by individuals, corporations, foundations, and city/county government agencies.
Due to an economic downturn, California Lectures ceased programming in 2012. We extend our appreciation to the many friends and supporters of California Lectures who helped make this series possible.
For information about the organization, please contact Suzette Riddle at info@californialectures.org.