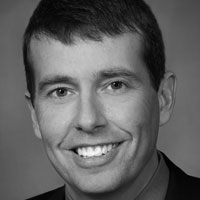 David Plouffe
In conversation with Dan Morain
Monday, September 13, 2010
Crest Theatre | 7:30 p.m.
David Plouffe is considered the chief architect of the groundbreaking campaign that put Barack Obama in the White House. Plouffe's grassroots approach and innovative use of technology helped guide Obama to a monumental victory in the 2008 presidential race. Plouffe's book, The Audacity to Win: The Inside Story and Lessons of Barack Obama's Historic Victory, recounts the amazing story of Obama's run for the White House, reveals details of this historic campaign, and shows how the campaign revolutionized politics. In his November 4th acceptance speech, President Obama referred to Plouffe as an "unsung hero…who built…the best political campaign, I think, in the history of the United States of America." Plouffe has served as a leading political consultant playing a key role in elections nationwide. He is currently heading an unprecedented effort to reach first-time voters in the 2010 midterm election.
"After reading Plouffe's engaging, detailed and frequently illuminating account of the Obama presidential campaign, one can see how the campaign was lucky and good – indeed, often very, very good." – San Francisco Chronicle